When planning a honeymoon destination, three of the most common requests we get are romantic, secluded and luxurious. Few properties fit the bill quite as much as Six Senses Yao Noi, located in Phang Nga Bay in Thailand. This eco-chic property is truly the epitome of barefoot luxury, with each of its villas feeling for like an opulent treehouse than a hotel. And if Thailand has been on your bucket list for some time now, why not use your honeymoon as the perfect reason to visit?

The Six Senses Yao Noi experience starts the moment you arrive at the Phuket airport. To start, a private car will take you to the marina, where you will board a speedboat. The 45-minute journey to the island of Koh Yao Noi offers spectacular views of Phang Nga Bay, which is famously known for the mystical limestone pinnacles which jut dramatically through the emerald waters of the Andaman Sea.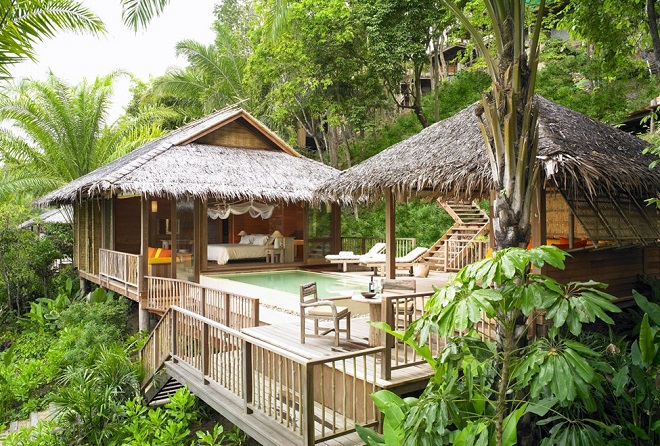 Upon your arrival at the island, you'll be greeted by your personal 24-hour butler who will guide you to your villa. For the duration of your stay, this person will be available to assist you in any way need to make the most of your trip. Each of the villas has been designed to blend seamlessly with the natural beauty of the jungle, constructed with local teak and palm-leaf roofs. Don't be fooled by their rustic look on the exterior, the villas are all well equipped with all of the modern amenities you could possibly need to ensure the ultimate in relaxation including a wine fridge, satellite TV, espresso machines, Bose sound systems and much more. The villas each include an open air living space as well, complete with a private infinity pool, sun loungers and an outdoor shower. With luxury accommodations like these, all you need to do is order in room service and you can make your villa your own private jungle retreat without having to leave!

For those who prefer to explore the island a little bit more, the Main House at Six Senses Yao Noi offers a variety of dining options, lounge areas and a larger infinity pool.  For a truly unique experience, The Dining Room is split-level space with multiple private pavilions surrounded by the lush jungle vegetation and a waterfall in the middle. It's the perfect setting for a romantic and intimate dinner to toast to your newlywed status!

Six Senses Yao Noi is designed to encourage you to use nature as your playground. During the day, they off a number of excursions including traditional long-boat explorations around the islands of Phang Nga Bay, kayaking, snorkeling and even luxury yacht cruises. If you'd prefer to stay a little closer to the island there is a yoga pavilion, a luxury spa, rock climbing, tennis courts and bike trails. At night, the private beach is often used for bonfires with entertainment and outdoor movie viewings.

Six Senses Yao Noi is the perfect location for that 'once in a lifetime' experience to share with your loved one. The true definition of eco-luxury, we couldn't imagine a more romantic place to toast to spending the rest of your lives together!