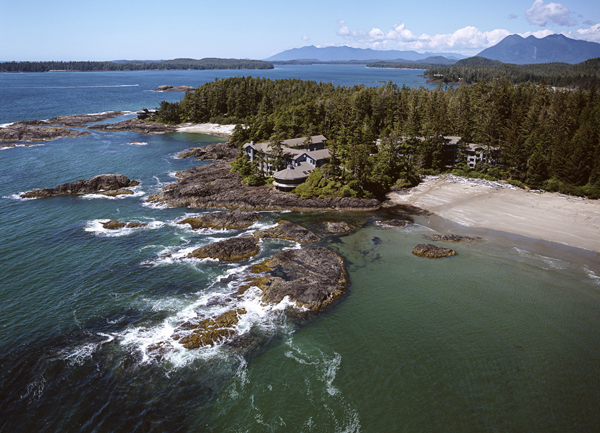 There's something about Tofino.  The marriage between ancient forests, windswept beaches and nature's elements creates the perfect setting for loved ones to come together on this remote coast. At the Wickaninnish Inn, you can celebrate your wedding through all four seasons with a touch of West Coast style and inspiration from your own personal vision. The Wick Inn has provided these beautiful from past events for your viewing pleasure… and for couples looking for a new and unique "rustic beach" option for your impending nuptials, please consider this special place for your wedding.
The Wick Inn is the only resort on Tofino's idyllic Chesterman Beach, and it has been a member of the Relais & Châteaux collection of fine hotels and restaurants since 1997. Two contemporary West Coast cedar structures, Wickaninnish-At-the Pointe and Wickaninnish-On-the-Beach, house 75 spacious guest rooms and suites, all featuring generous ocean or beach-to-ocean views, individual balcony, gas fireplace, and soaker tub. The variety of amenities offered in guest rooms include Bose Wave music systems, flat screen tv, locally-penned novels, microwave, private bar, coffee maker, kettle, binoculars, Helly Hansen rain gear and terry bathrobes.
The guest experience is completed with The Pointe Restaurant's 240 viewscapes of the Pacific Ocean and Chesterman Beach complementing refined West Coast cuisine, and Ancient Cedars Spa. In the 2010 World's Best Awards, readers of Travel + Leisure magazine voted the Wickaninnish Inn as the top resort in Canada and one of the top four resorts in North America.
Shell Beach is tucked away at the western end of the Wickaninnish Inn's property by the McDiarmid family cabin, and this beach is named for its finely crushed shells underfoot.  Guests of the Inn are offered the opportunity to experience the elegant seclusion of Shell Beach for a memorable outdoor private function from mid-May through September.  Shell Beach is bounded by tidal rocks where shorebirds often rest, and bald eagles can occasionally be seen flying overhead. This pristine, natural setting lends itself well to a custom West Coast seafood cookout or beach barbeque celebration for up to 50 guests.
The food is another thing to look forward to at the Inn. Their award-winning culinary team is passionate about food, sourcing local fresh seafood, organic produce and free-range meats for your wedding.  Rather than offer standard pre-set group menus, the Chef incorporates your vision and preferences into the design of your wedding reception dishes.
The last not-to-be-missed element of this hotel is the Ancient Cedars Spa. Offering a range of pampering treatments for the wedding couple and guests with products from Comfort Zone and Vancouver Island's own Seaflora. Their newest service, the Hishuk Ish Tsawalk Awakening Treatment, incorporates elements of coastal First Nations cleansing techniques into a distinctive indigenous therapy.  Side by side (couples) treatments are offered in our premiere oceanfront treatment spaces, the Rainforest Haven and Cedar Sanctuary cottage.
The Wickaninnish Inn is a sustainable hotel choice for eco-conscious couples. Clayoquot Sound was designated a UNESCO Biosphere Reserve in 2000, which means the region is seen as a living experiment of people and nature living in harmony, where an exchange of ideas about conservation and sustainability is practiced and encouraged.  What this means for your wedding is that much of your food will have been harvested, fished or grown locally, with vegetable and fruit matter composted on-site.  It means that elements of your décor can be sourced directly from the beach or  forest.  It means that pure, local, "Meares Island" water will be placed in a filtration carafe by your bedside during evening turndown service. You can rest assured that the Wickaninnish Inn's longstanding mandate and ongoing journey toward sustainability translates into a West Coast wedding that is as natural as it is festive and magical.
Photo credits:  Adrian Dorst, Matthew Mendehlson, Jeremy Koreski and Christopher Pouget.