Simply Stunning Weddings by Palladium
April 4, 2017
One of the first questions we ask any wedding couple is for them to describe their wedding style. Our goal is always to design weddings that are a unique reflection of our couples, but sometimes it can be a bit challenging to find a starting point. Often the scope for customization can be a little too wide if there isn't a definitive direction the couple is looking for, whereas most hotel packages are too generic. Enter the Karen Bussen collection of Simply Stunning Weddings offered exclusively by Palladium Hotels & Resorts.
"The original inspiration for my Simple Stunning line of destination weddings was the idea that 'wedding packages' do not have to have a 'cookie cutter' formula" says Karen Bussen, celebrity event planner and exclusive wedding designer for Palladium Hotels and Resorts. "A 'beach wedding' means different things to different couples. Some want a 'toes in the sand' casual experience; some want a romantic elopement just for two.  Others want a sophisticated celebration with the ocean and gardens as a backdrop, but with plenty of glamour."
Here are some of the highlights from the collection:
Tropical Promise – Bright bold and colourful, this package is perfect for any wedding couple who wants to embrace the playful side of the tropical destination they've picked to say "I Do!" The florals include a colourful selection of tropical beauties including orchids, ginger lilies and birds of paradise. A vibrant mango and yellow theme is infused into every detail, including a specialty tropical juice based cocktail to cheers with after the ceremony.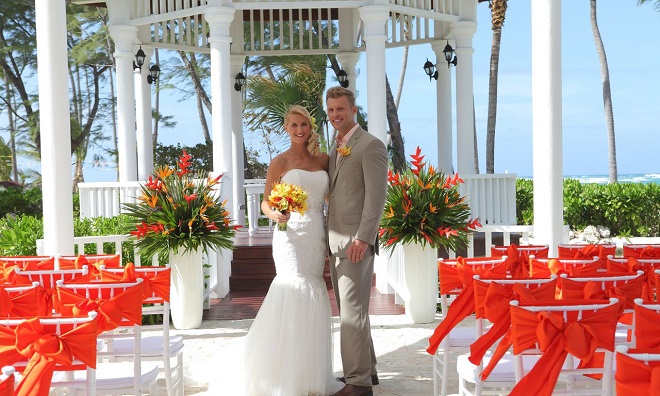 Waves of Love – The ultimate beach wedding package is Waves of Love. Sea shells and starfish are featured prominently throughout, but the décor still has an air of glamour to it thanks to an infusion of hydrangeas and orchids. This package is offered in a variety of colours, each one drawing perfectly on the beautiful ceremony setting be it the lush green of the gardens or the brilliant blue of the ocean.

Love Birds – As the name indicates, this package is perfect for any couple looking for a romantic and intimate wedding experience. Designed for a small ceremony and reception of up to 6 guests, Love Birds is designed for anyone who dreams of a celebration that is simple and elegant. It seems only fitting that orchids, which are considered to be synonymous with love, are the main floral element of the Love Birds package. Book this package for free at any of their hotels in Punta Cana or Montego Bay.

Pure Paradise – This package is infused with modern flare, from the hanging pomanders to the rosette chair caps included in the ceremony set-up. The package is offered in a clean bridal white, but for those wedding couples looking to add a pop of colour there are also options in a vibrant pink and red.

Island Pearl – Pearls are one of the more luxurious elements that tend to be synonymous with the ocean, which is why the name of this package is so fitting for the style is represents. Island Pearl is the perfect package for any wedding couple who is looking to design a wedding with timeless elegance.

What's wonderful about the Simply Stunning Weddings collection is that each package captures a distinct mood and style, while still allowing for plenty of personalization so that the wedding is still that one-of-a-kind experience for the couple.