Category: Dominican Republic
Categories: Beach Wedding, Caribbean, Destination Weddings, Dominican Republic, Honeymoons, Locations, Mexico, Resorts
Couples and Honeymooners have a new luxury resort to book for fall and winter getaways! The Royal Suites by Palladium in Mexico and the Caribbean have become The Royal Suites Hotels (TRS Hotels). The rebrand includes a fresh and elegant look on property, while remaining true to the mission of offering the best adults-only luxury experience and personalized service at the current properties in the Dominican Read More »
06 September 2017 | No Comments
Categories: Beach Wedding, Destination Weddings, Dominican Republic, Locations, Resorts
We're excited to share with you a sneak peak of the Royalton Bavaro! Located on the beautiful shores (and one of the best beaches in the world!) of Punta Cana, Dominican Republic, the newest addition to the Royalton family is already getting us beyond excited for its grand opening, which is set for January 2018. This modern resort caters to guests of all ages with its distinct sections. Singles, Read More »
02 August 2017 | No Comments
Categories: Destination Weddings, Dominican Republic, Real Weddings, Uncategorized
About Jenna (Zaza) and Jeremy Occupations:  Entrepreneur and Construction Coordinator How they met:  Grade 3 class together What attracted Jeremy to Jenna: Her smile What attracted Jenna to Jeremy: His humour What was the best advice you received as a couple?  Don't stress about the wedding day, enjoy it because it goes by quickly. Engagement story:  Jenna's favourite holiday is Christmas, Read More »
13 September 2016 | 2 Comments
Categories: Dominican Republic
22 August 2016 | No Comments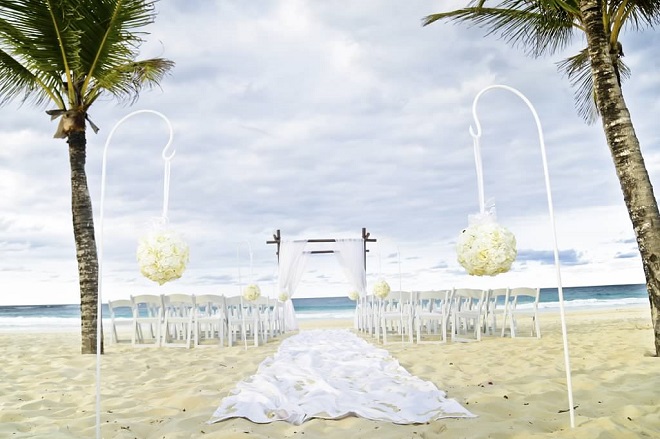 Categories: Destination Weddings, Dominican Republic, Real Weddings
A huge congratualtions to Sarah and Kevin on their recent nuptials in Punta Cana, Dominican Republic. What a beautiful destination wedding choice! About Sarah and Kevin Occupations:  Kevin is a high school teacher.  Sarah is a stay at home mom and nanny. How they met:  We met at the Ocean Drive in Sea Isle City, NJ. What attracted Kevin to Sarah: Her Laugh What attracted Sarah to Kevin:  His Read More »
06 May 2016 | No Comments
Categories: Destination Weddings, Dominican Republic
Looking for the perfect destination to have your wedding, where guests of all ages are bound to have a remarkable vacation? We think we've found it for you! Experience the Now Onyx Punta Cana, the newest resort to redefine the all-inclusive standard, opening this November. Set on the stunning beaches of the Punta Cana in the beautiful Dominican Republic, this resort is an idyllic spot for a romantic Read More »
12 April 2016 | No Comments
Categories: Destination Weddings, Dominican Republic
Aman Resorts just released their plans for Amanera, their newest resort set to make its debut in late 2015. Nestled on top of a cliff in the Dominican Republic, Amanera spans across 2,000 acres of natural beauty; flanking the magnificent Cordillera Septentrional mountain range and overlooking Playa Grande beach, the resort offers guests alluring vistas of both the verdant jungle and the vast azure Read More »
06 July 2015 | No Comments
Categories: Destination Weddings, Dominican Republic
Royalton Punta Cana, located on the beautiful Bavaro beach, has some of the most unique wedding locations we have seen and had to share with you! No matter what your wedding style is, there is bound to be an option here for you that you can add your personal touch to, to make it your own. THE BEACH   Of course, the most popular location when have a destination wedding is the beach! Royalton Punta Read More »
02 June 2015 | No Comments
Categories: Destination Weddings, Dominican Republic
The Simon Mansion is one of the many offerings that make the Hard Rock Hotel & Casino in Punta Cana such a popular destination for those looking for a lavish escape from the ordinary. Master Chef Kerry Simon, who Rolling Stone magazine named the "Rock n' Roll Chef", has taken his latest partnership with the Hard Rock brand to a whole new level, creating an extravagant menu that infuses Read More »
18 April 2015 | No Comments
Categories: Destination Weddings, Dominican Republic
We have introduced you previously to one of our favourite new adults only property, CHIC by Royalton Luxury Resorts, and now we wanted to share with you the stunning beach ceremony location that they are offering. There are not many spots that can offer this kind of sunset, how picture perfect is this? We cannot wait to see our first bride and groom standing here – who will it be?
20 March 2015 | No Comments
Categories: Destination Weddings, Dominican Republic, Real Weddings
Congratulations Carolyn and Joseph on your marriage in beautiful Punta Cana. About the Carolyn and Joseph Carolyn: 31years old, athletic, compassionate, bubbly personality, jokester Joseph: 32 years old, laid back, sports fanatic, big teddy bear Occupations: Carolyn is a Special Education teacher (teaches students who are mentally and physically disabled), and Joseph is a Project Manager How they Read More »
30 August 2014 | 1 Comment
Categories: Dominican Republic, Real Weddings
Remember Hilary and Elliott's Gorgeous Costa Rica wedding we featured last year on the blog? Well, here's their even more gorgeous video that we're psyched to share. What a stylish couple from head to toe!
12 August 2014 | 1 Comment
Categories
Archives
Links